The Founder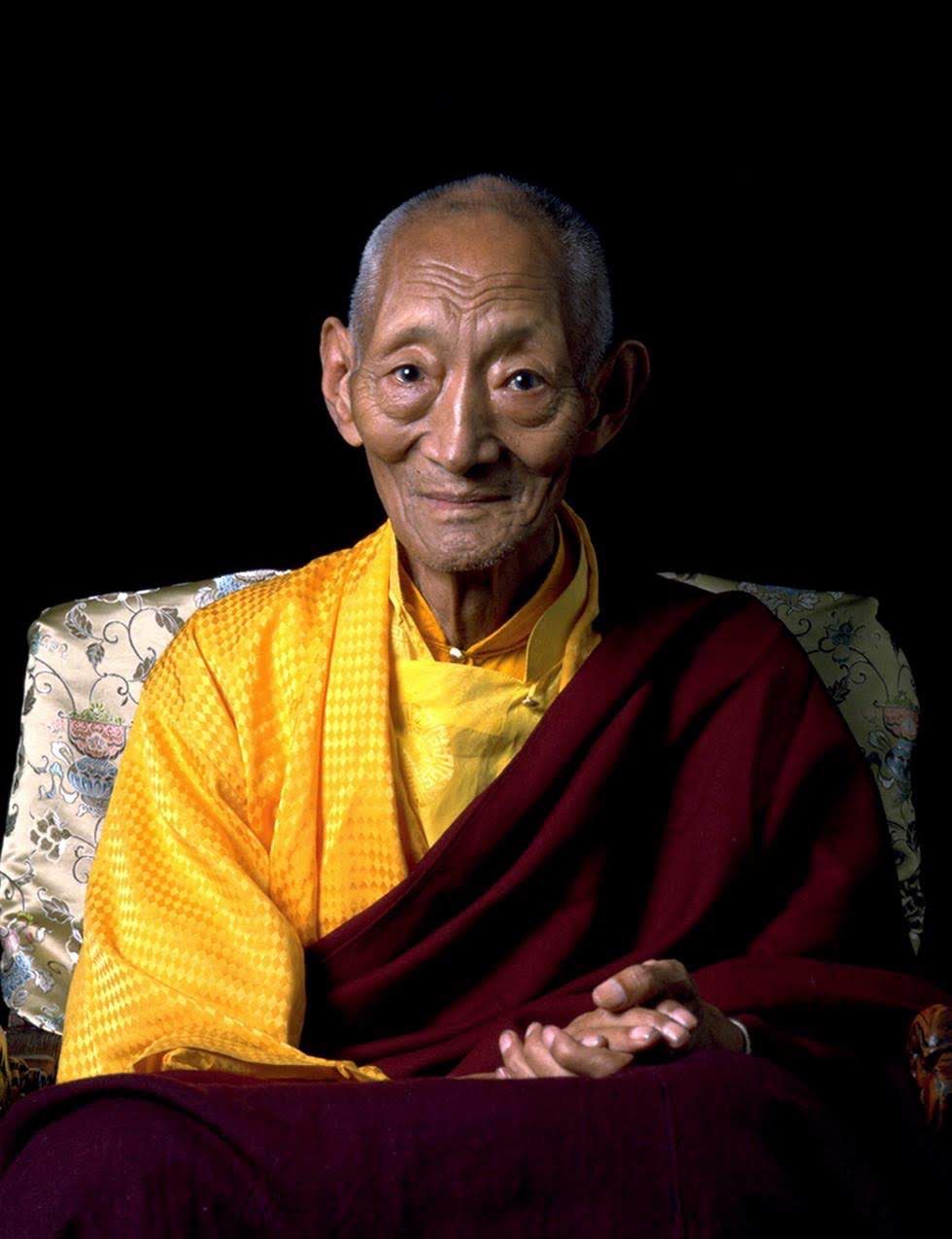 Kyabje Dorje Chang Kalu Rinpoche (1905-1989)
You live in illusion and the appearance of things. There is a reality, and you are that reality, but you don't know it. If you should ever wake up to that reality you would realize that you are nothing, and being nothing, you are everything. That is all.
— Kyabje Dorje Chang Kalu Rinpoche
Kagyu Thegchen Ling was established in December 1974 under the guidance of Kyabje Dorje Chang Kalu Rinpoche (1905-1989), lineage holder and senior meditation master of the Karma Kagyu and Shangpa Kagyu traditions of Tibetan Buddhism. From 1971 until 1986 Kalu Rinpoche made six world tours visiting Europe, North and South America, and Southeast Asia, founding and overseeing many dharma centers. His legacy notably includes the establishment of the very first three-year retreat tradition in the West—accessible to non-monastics and women alike.
Kalu Rinpoche was born in 1905, under auspicious signs and miracles, into the Ratak family of Beru, in Hor Treshe, Kham in Eastern Tibet.
At 13, he received novice vows at Palpung Monastery by the 11th Kenting Tai Situpa and entered his first retreat at 16, at Tsadra Rinchen Dak under Lama Norbu Dondrub who gave transmissions of both the Shangpa Kagyu and Karma Kagyu traditions.
Two years after taking full ordination at 23, Kalu Rinpoche went into isolated retreat as a wandering yogi for 12 years. At the order of the 11th Tai Situpa, he returned at age 37, to serve as retreat master for both Palpung and Tsadra. Over the next decades, he gave teachings and empowerments throughout Tibet. H.H. the 16th Karmapa also sent him to Bhutan at the invitation of the Queen Mother of Bhutan where he taught extensively and established retreat centers.
In 1966, Kalu Rinpoche moved to Sonada near Darjeeling and built a monastery, Samdrub Dargay Chöling which would remain his residence until his passing in 1989.
It continues to serve as the international seat of the Shangpa Kagyu tradition.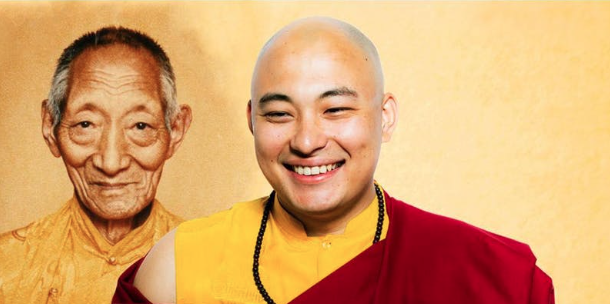 As wisdom and compassion became perfected in him, he returned to the world with the sole purpose of
helping to liberate his fellow beings from the miseries of conditioned existence.
LINEAGE HOLDER
SPIRITUAL DIRECTOR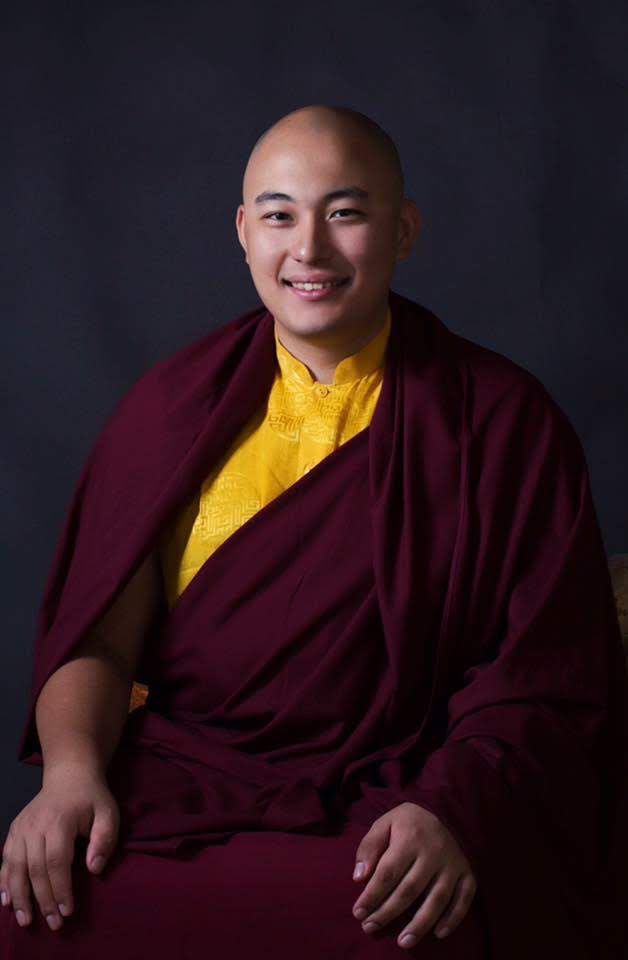 Kyabje Kalu Rinpoche
The liberation from the illusion means simply living in the state of awareness without any fixation…
— Kyabje Kalu Rinpoche
Since illusion, which is beyond intellect, involves no deliberate application of mindfulness, all phenomena are seen as nonentities. This is the mindfulness branch of enlightenment.
— Niguma
Kyabje Kalu Rinpoche is the lineage holder of the Shangpa Kagyu tradition of Tibetan Buddhism. He was born on September 17, 1990 at Samdrub Dargay Chöling, on the day of Dharma Protector, Six-Armed Mahakala amidst many auspicious signs. He was recognized two years later by His Holiness the 14th Dalai Lama and His Eminence the 12th Chamgön Kenting Tai Situpa as the reincarnation of Kyabje Dorje Chang Kalu Rinpoche (1905-1989), revered Tibetan Buddhist meditation master, scholar and one of the first Tibetan lamas to teach in the West.
Kyabje Kalu Rinpoche entered the traditional three-year retreat at age 14 at his Sonada monastery, completing the retreat in 2008. In 2010, he traveled to the West to oversee the meditation centers established earlier by the previous Kalu Rinpoche, including Kagyu Thegchen Ling where he now presides as the Center's Spiritual Director. Upon returning to Sonada, he gave the full Shangpa transmission and placed a new group into retreat. In 2017, he entered a group of yoginis into retreat in La Boulaye, France. Rinpoche himself, has received the full Shangpa transmissions three times. He has ardently assumed the activity of his predecessor, spreading the Dharma and the Shangpa tradition, with a focus on teaching Niguma Yoga around the world.
On Niguma Yoga, he has said that its presentation represents a new era in the transmission of Vajrayāna Buddhism which was once a 'secret' practice. It is now, being made available to a wider audience by an experienced lineage holder as support for advanced tantric disciplines, including Mahamudra and Dzogchen. Its purpose is to cultivate beneficial aspects for physical and mental wellbeing, bringing awareness to the psychophysical basis of effective spiritual practice.
1
st

RESIDENT LAMA
1976-2022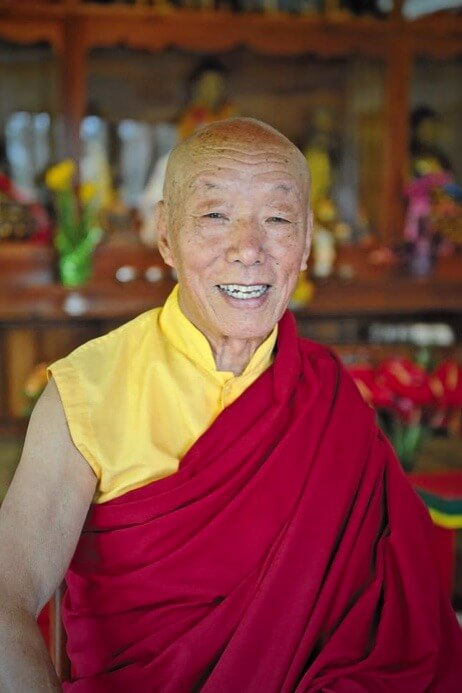 Venerable Lama Karma Rinchen (1931-2022)
As our natural loving-kindness becomes stronger, compassion develops and awareness of our own true nature will begin to arise in our mind.
— Ven. Lama Karma Rinchen
Venerable Lama Rinchen was born in Gyalrong, Eastern Tibet, in 1931. He began studies in the basic tenets of Tibetan Buddhism at age seven. At 11 years old, he traveled for two months on foot to Palpung Monastery where, three years later, he took the novice monk vows from the 11th Kenting Tai Situpa (1886-1952). He completed the traditional Karma Kagyu three-year, three-month retreat at 23 and in 1955, on Tibetan New Year's Day took full ordination vows.
The escalating political situation in Tibet forced Lama Rinchen's decision to leave Tibet, making a long, treacherous journey to safety in Sikkim, in January of 1959. From 1961-1964 he served as secretary to the Senator in the Congress of the Tibetan-Government-in-Exile in India. At 34, he moved to Darjeeling and soon after helped Kalu Rinpoche build his new monastery at Sonada.
In 1976, he was one of twelve Lamas sent to Europe and America by the Karmapa and Kalu Rinpoche to become resident Lamas of Dharma Centers established by Kalu Rinpoche. He arrived in Honolulu, Hawaii on December 1st, 1976, and was the principal resident Lama at KTL until his passing on January 17, 2022. During his 46 years in the West, Lama Rinchen taught steadfastly at KTL and as the 16th Karmapa predicted, he would share the Dharma with countless others, a mark of his kindness and compassion.
ASSISTANT RESIDENT LAMA
1999-2022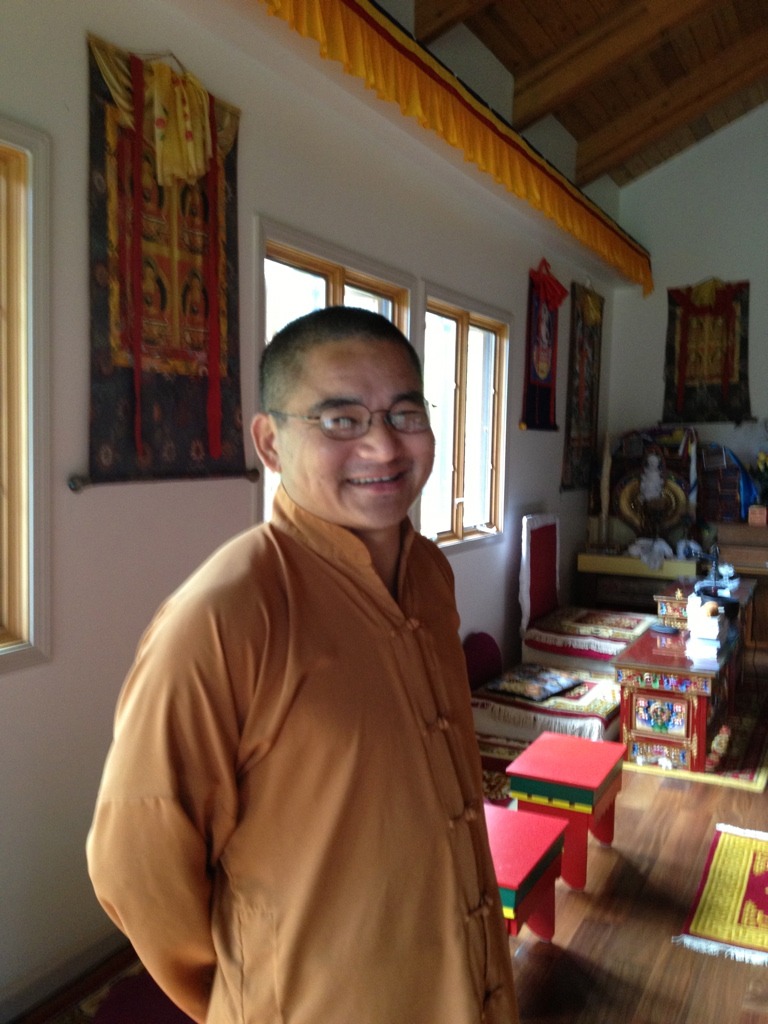 Venerable Lama Tempa Gyeltshen
Venerable Lama Tempa Gyelshen first arrived in Hawaii in 1999 to assist Ven. Lama Rinchen with a growing Center. Born in 1966, in the town of Serthi, Eastern Bhutan and orphaned at an early age, Lama Tempa's earliest training began with his uncle. He left Bhutan at 22 and entered Kalu Rinpoche's Sonada monastery Samdrub Dargay Chöling, where he completed the traditional three-year retreat under senior retreat master, Very Venerable Bokar Rinpoche and then completed a second thee-year retreat. In 2022, Kyabje Kalu Rinpoche asked Lama Tempa to be a Resident Lama at Kagyu Shenpen Kunchab in Santa Fe, New Mexico, assisting Ven. Lama Karma Dorje.
We continue to wish Lama Tempa the very best — with good health, in all future endeavors.
CURRENT
RESIDENT LAMA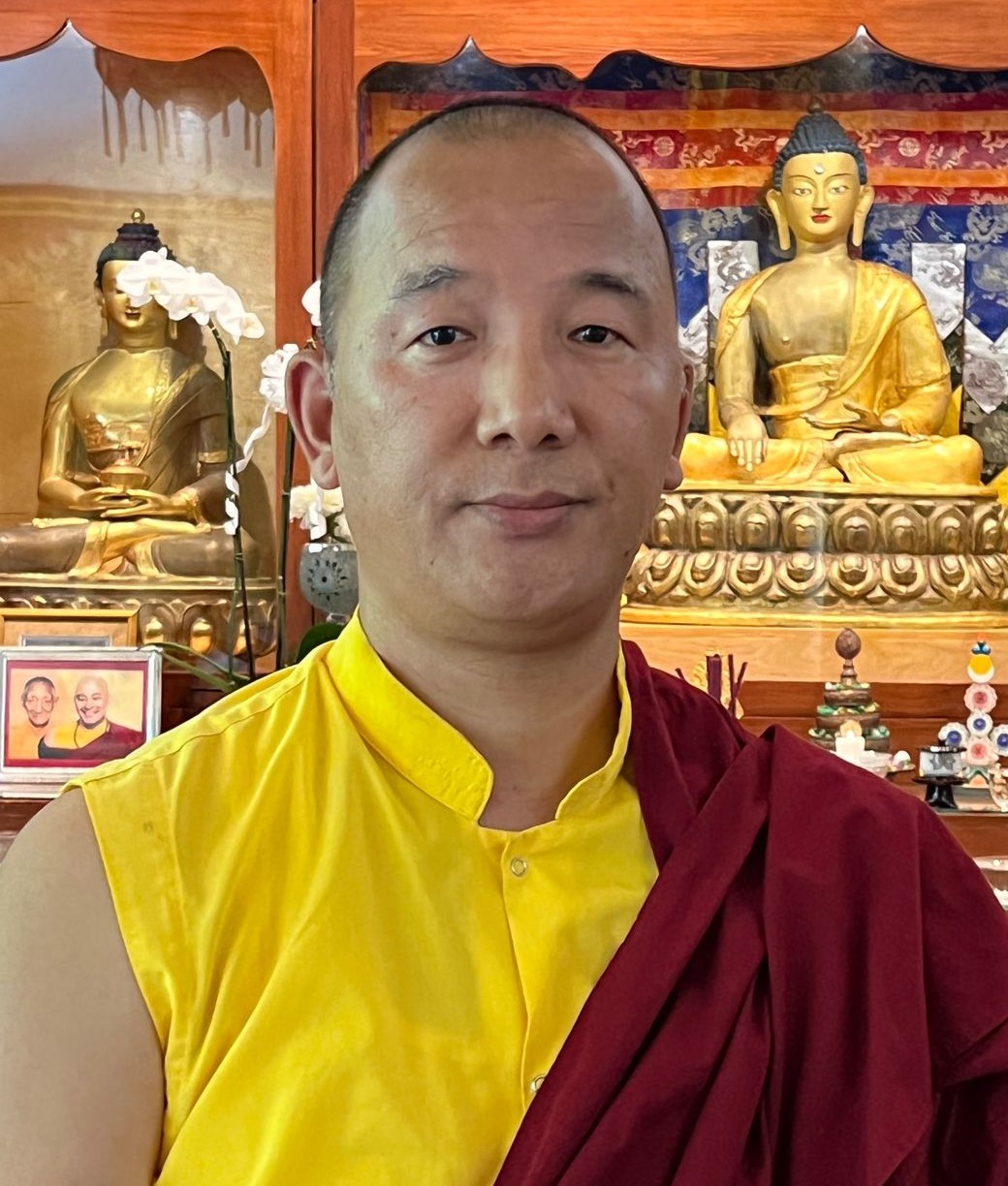 Venerable Lama Mingma Sherpa
Venerable Lama Mingma Sherpa was born in 1978 in Karfok, Ilam, Nepal and at the age of eight became a Buddhist monk. Under the direction of Kyabje Kalu Rinpoche, he completed the traditional Tibetan Buddhist three-year retreat. In 2010, Kyabje Kalu Rinpoche asked Lama Mingma to move to the United States to assist Lama Karma Dorje as Resident Lama at Kagyu Shenpen Kunchab in Santa Fe where he assumed responsibilities for the Center's growth and the development of Dharma studies, updating and expanding sadhana practices.
In 2022, Kyabje Kalu Rinpoche appointed Lama Mingma Resident Lama of Kagyu Thegchen Ling, in addition to regional supervisor for these Shangpa Kagyu Centers: Kagyu Thegchen Ling (Honolulu), Kagyu Shenpen Kunchab (Santa Fe), Karma Jur Med Ling (Truth or Consequences) and Palden Shangpa Vermont. We are pleased to have Ven. Lama Mingma continue to guide KTL and its development into the future.